Can salad dressing filling machine and beverage filling machine be universal?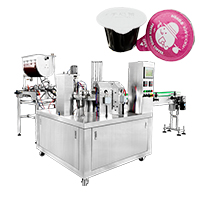 automatic salad dressing filling machine can be used in common with juice making machine beverage filling. In other words, as long as the caliber of the packaging container is consistent, one machine can be used for multiple purposes. The salad sauce filling machine can not only fill salad sauce, but also fill all kinds of drinks, fruit juices, sauces and other products in the form of liquid, paste, granules, powder and other products, helping the diversified development of the enterprise's sales products.
Salad dressing filling machine
automatic filling machine for honey is a filling mechanical equirpment with high degree of automation. If the output demand of the enterprise is high, it is recommended to choose a filling machine with a larger specification and model. If the enterpise has more functional requirements, it is recommended to work with the filling machine production line equipment. The specific production equipment of salad dressing filling machine can be customized according to the enterprise's own needs.
http://www.shanghaipacking.com/
https://www.facebook.com/joygoal.machine/