JOYGOAL Shanghai factory price coffee filter paper for K-CUP coffee capsules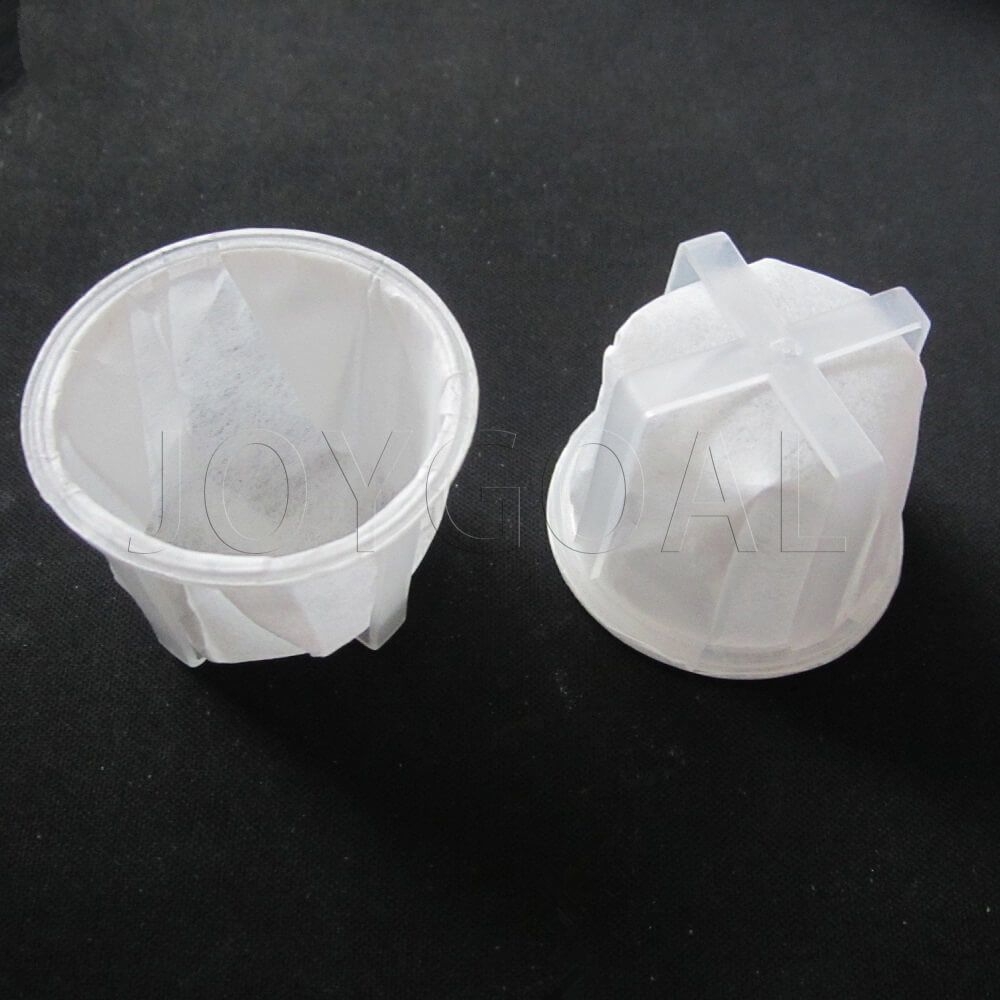 Why we design paper filter for k cups?
In order to develop a new alternative for the current market for American, Canada, East Europe Market we have develop one alternative for K-cup filter with some advantages to suit this into our k cup filling and sealing machines, give one standard quality solution for the new emergent domestic market, giving the chance to small and big roasters to develop they own capsule production in automatic way with a very economic price compared with the current Italian technology or any other technology what is working with a good standard quality in a fully automatic solution.
What is the development of paper filter for k cups?
The Ring…
a) This ring is done in special way to resist the efforts of sealing and put into the cup.
b) With a weight less of 1 gr. To economize the final cost and protect the environment.
c) Special design to keep the space between one and other in order to give enough space to our filling and sealing machine to drop this and press this into the capsule.
d) With special design to seal the paper not only in the top and not only in the side, allowing the machine to seal the paper in the top and side making one to increase the resistance of the seal and paper to support more pressure.
The Paper…
a) The paper was well chosen after several test thinking in the flow time and resistance request.
b) With PP and SGS rapport.
The shape and the Filter…
1) With a shape of the filter what allow the expansion in the filling moment.
2) With a shape want can easily drop down in the cup.
3) With a shape what can easily put one filter inside of the other to keep space and form.
4) With a shape what can warranty standard quality and be produced by machine.
5) A filter done to allow work with coffee or foil tea.
6) A filter with easy package
7) A filter with easy system to drop into the capsule.
What is the advantages of paper filter for k cups?
a) We are a professional factory producing K cup coffee capsule filling and sealing machine.
b) K cup coffee filter is special design for our K cup coffee capsule filling and sealing machine.
c) Work perfectly with our K cup coffee capsule filling and sealing machine.
d) Find us, you do not need to contact other suppliers.
e) We also can provide you empty k cups and aluminium foils.
SHANGHAI JOYGOAL FOOD MACHINERY CO., LTD
ADD: NO 1082, Jiaxin Road, Jiading District, Shanghai
TEL:0086-21-59156277 59156278 59156377
FAX:0086-21-59156399
MOB:0086-15216669995 13124832882
WeChat/WhatsApp:0086-15216669995 13124832882
E-MAIL:hong@shjoygoal.com
WEB:http://www.shanghaipacking.com/
Facebook:https://www.facebook.com/joygoal.machine/
YouTube:http://www.youtube.com/c/ShanghaiJoygoalFoodMachineryCoLtd