What is a reagent filling machine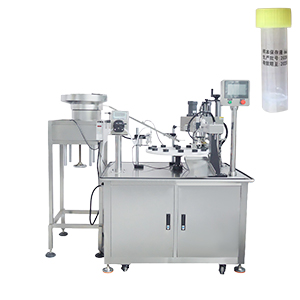 What is a
reagent filling machine
? A
reagent tube filling machine
is a special equipment for filling and packaging reagent liquids, mainly used in the pharmaceutical industry.
Reagent filling machines
produced by shanghai joygoal food machinery co., ltd. are widely used in the pharmaceutical industry and are welcomed by various large pharmaceutical companies.
micro reagent filling machine
10ml test tube reagent kit filling machine
equipment structure:
1. Rack: The whole machine is made of stainless steel square pipes, the bottom is equipped with a movable steering wheel and a positioning device, the lower two sides are made of open and close sliding doors for easy maintenance, the template is made of anti-corrosion aluminum alloy, and the transmission chain is made of stainless steel.
2. Sealing system: It consists of sealing cylinder, guide sleeve, guide column, fast heating, sealing guide plate, sliding joint, temperature control system, etc. The pressure and temperature of the sealing system are adjustable.
3. Filling system: filling with peristaltic pump.
4. All equipment operations are controlled by touch screen, equipped with emergency stop switch, each operation function is equipped with stop switch and start switch, and all have manual control switches. The control interface can be installed only after confirmation by Party B.
5. Equipped with stainless steel thickened chain, polymer engineering plastic guide rail, template chain guide rail can be adjusted up and down, left and right.
6. The main frame is made of stainless steel, and its strength meets the design standards. It is supported by 4 feet. The parts below the head frame plate (including the pressure head cutter assembly, chain guide support, bearings, and adjustment parts) are made of anti-rust materials. The height of the frame and the plane installation height of the template shall be processed according to the size required by Party B. The frame structure is reasonable and the strength is sufficient, and there is no visual error in the horizontal, vertical and vertical directions.
7. Control system: Pneumatic components are composed of solenoid valve, pressure gauge, distribution plate tube, cylinder, etc. The electrical part consists of PLC, touch screen, circuit breaker, relay, temperature control meter, switching power supply and so on.
Production capacity:
1. About 4800-5000 pcs/hour
2. Air pressure air consumption: >0.6-0.8MPa,
3. Power supply voltage: 220V/380V, 50HZ/60HZ.
4. Total power: about 6kw for 8 pieces.
5. Equipment size: 8 cups are about 4000*900*1650mm
http://www.shanghaipacking.com/
https://www.facebook.com/joygoal.machine/