Facial mask cup packaging machine, aluminum foil sealing machine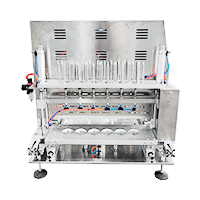 This machine is an aluminum foil film
sealing machine
for plastic cups, which is suitable for sealing various small caliber containers. Use a hot punch to seal the film, so that the sealing appearance of the product is three-dimensional and beautiful. The
sealing machine for cups
is novel in design, the bottom mold can be replaced, small in size, low in energy consumption, high in efficiency, large in function and convenient in operation. Suitable for small and medium-sized enterprises.
Facial mask cup sealing machine
The facial mask cup sealing machine is not only for facial mask cups, but also for tubes, reagent strips, makeup removers and other small caliber products. The temperature control range is 0-200, and the aluminum plus 304 stainless steel body is used for safety assurance and safe use.
cup aluminium foil sealing machine
If you want to know more about the bubble tea cup sealing machine, welcome to consult online, and we will do our best to provide you with a full range of services.
http://www.shanghaipacking.com/
https://www.facebook.com/joygoal.machine/