Features of Hardware Screw Packaging Machine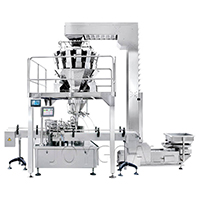 Screw packaging machine is a machine that can automatically sort, count and package products with regular shapes such as screws and nuts. Its functional structure is mainly composed of hopper, chassis, PLC control system, optical fiber counting system, pneumatic device, etc.
Generally speaking, there are two types of metal nut packaging machine. One is semi-automatic metal screw packing machine that requires accurate manual operation, and the other is automatic metal screw packing machine for assembly line production. The scope of application of automatic packaging machine is relatively wide, and its main specialized markets are industrial, furniture, hardware, food, etc. Because the products in these markets need to be produced in large quantities with high efficiency, automatic packaging machine has a strong market in these industries. The automatic packaging machine does not have high requirements on the packaging materials, nor does it have much requirements on the state of the packaging materials, so it can generally carry out complete packaging.
Manually pour the materials into the vibrating disc. After circular vibration, the materials will crawl along the vibrating disc to the linear vibrating track, and then enter the control system in order for counting.
Show greater advantages in the production of screw packaging machine industry, and then bring more surprises to more enterprises and users who use screw packaging machine. In the process of continuous growth and development, screw packaging machine brings you advanced scientific and technological strength, and then let yourself better get used to the market development. In the process of rapid development, screw packaging machine changes not only the external material conditions, With its own technology and industry development level, for the screw packaging machine in the current market, it can bring sufficient assurance to the enterprise, and the investment in human resources also makes the screw packaging machine have a stronger contribution. In the process of continuous growth and development, the screw packaging machine will also adapt to the development conditions of the market, so that it has more perfect performance.
http://www.shanghaipacking.com/
https://www.facebook.com/joygoal.machine/