84 disinfectant filling machine/automatic linear liquid tracking filling machine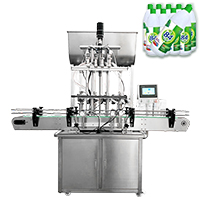 #Disinfectant liquid filling machine # Now 84 disinfectant filling machine has a large market share in the market. With the continued epidemic, 84 disinfectant, 75% alcohol, disinfectant water and other disinfection products are sold well, so 84 disinfectant filling machine also ushers in a broader market. 84 Disinfectant filling machine is also a fully automatic linear liquid filling machine for tracking , with automatic servo tracking system, positioning function, touch human-machine interface, and is suitable for automatic filling of bottles of different specifications.
A device can win the recognition of the market and public customers, and its own advantages must exist. So what are the advantages and characteristics of this 84 disinfectant filling machine, that is, the full-automatic linear liquid tracking filling machine? Look down:
1.84 The disinfectant filling machine uses sensors to accurately find bottles and follow the filling process. The production process is non-stop, and the multi head automatic filling process. The bottles do not need to stop filling during the production process.
2. For bottles of different shapes, heights and capacities, this filling equipment can be debugged in just a few minutes, entering the next wave of production, completely solving the problem of time-consuming and labor-intensive due to the wide variety, small number of single products and frequent machine adjustments.
3. The full-automatic linear liquid tracking filling machine adopts touch screen display, PLC control system, human-machine interface setting, intuitive and convenient operation, accurate loading, frequency conversion control, arbitrary adjustment of production speed, and automatic counting.
4.84 The top of the disinfectant filling machine is equipped with a storage box. The filling method and the material contact part are made of sanitary grade stainless steel 304. There is no pollution during the filling process. It is convenient to switch and clean all materials.
5. The filling volume is adjusted by actual measurement and controlled by digital display, which is easy to operate and clean.
This 84 disinfectant filling machine is suitable for filling chlorine dioxide disinfectants, alcohol disinfectants, bromine containing disinfectants, iodine containing disinfectants, quaternary ammonium salt disinfectants, chlorine containing disinfectants, peroxide disinfectants, phenol disinfectants and other products.
http://www.shanghaipacking.com/
https://www.facebook.com/joygoal.machine/