Cat food automatic packaging machine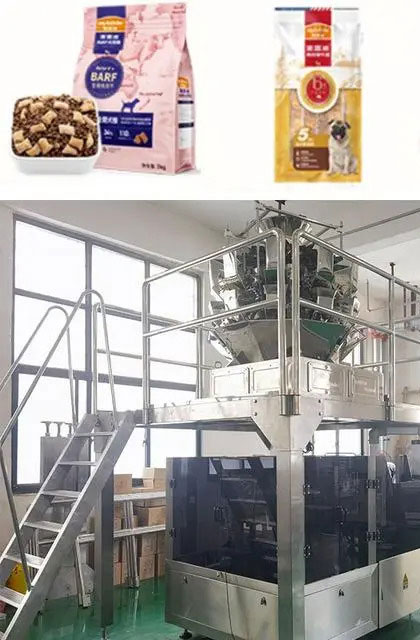 Cat food automatic packaging machine - pet food packaging machine production line
In recent years, in the consumption structure of the pet market, the consumption of pet food is a very large expenditure for pet rearing. It can be seen that pet food has a huge potential for development. With the development of the pet industry, pet owners have higher and higher requirements for pet food, which not only requires perfect color, flavor, but also pursues natural, nutrition, safety and health care. Freeze-dried pet food can well meet this demand. Packaging pet food needs an automatic packaging equipment, and cat food automatic packaging machine is fully in line with this condition, cat food automatic packaging machine is suitable for packaging cat food, dog food, cat litter, pig feed, cattle feed, chicken feed, rabbit food, beef grain, freeze-dried chicken pieces and other packaging.
Cat food automatic packaging machine - pet food packaging machine
The real material and the high proportion of meat content are closer to the natural dietary needs of dogs and cats, so the pet freeze-drying is popular among many pet lovers. Perhaps in the near future, freeze-drying will replace puffed dry food and become the mainstream pet food. Under the social background of rapid changes in pet raising concepts, the market potential of automatic cat food packaging machine has also been developed, and the pet food packaging production line equipment constantly improves its technical content to meet the high standards and requirements of freeze-dried food packaging.
http://www.shanghaipacking.com/
https://www.facebook.com/joygoal.machine/