vertical granule packing machine shanghai joygoal machinery co., ltd.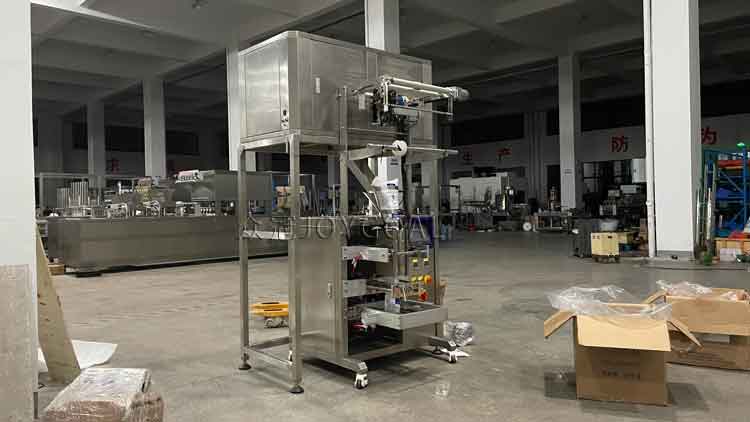 Description
solid packing machine is designed and manufactured by advanced science and technology. It has reliable quality, high efficiency and beautiful shape.
Features
It adopted advanced photo electricity track planet differential compensating mode and automatic constant temperature control mechanism, which makes this machine has very fast packing speed.
Automatically finish whole packing processes of bag making, computation, filling, sealing, cutting, counting and heat pressing batch number on the bag.
It is suitable for various compound packing materials.
Made from stainless steel to ensure international hygiene standards.
Technical Parameters
| | | | |
| --- | --- | --- | --- |
| model | GT-300K | GT-480K | GT-800K |
| bag length | 50-150mm | 50-300mm | 100-550mm |
| bag width | 25-120mm | 70-190mm | 120-290mm |
| film width | 60-240mm | 160-380mm | 260-600mm |
| filling volume | 5-100ml | 50-500ml | 250-5000ml |
| packing speed | 40-80bag/min | 40-80bag/min | 20-60bag/min |
| power | 1.6kw | 1.65kw | 3.5kw |
| air source | 0.6mpa | 0.65mpa | 0.65mpa |
| air consumption | 1m3/min | 1m3/min | 6m3/min |
| size | 760*980*1800mm | 900*1120*2360mm | 1180*1890*2460mm |
| weight | 300kg | 480kg | 800kg |
SHANGHAI JOYGOAL FOOD MACHINERY CO., LTD
ADD: NO 1082, Jiaxin Road, Jiading District, Shanghai
TEL:0086-21-59156277 59156278 59156377
FAX:0086-21-59156399
MOB:0086-15216669995 13124832882
WeChat/WhatsApp:0086-15216669995 13124832882
E-MAIL:hong@shjoygoal.com
WEB:http://www.shanghaipacking.com/
Facebook:https://www.facebook.com/joygoal.machine/
YouTube:http://www.youtube.com/c/ShanghaiJoygoalFoodMachineryCoLtd