Vacuum packing machine vacuum sealer double chamber vacuum sealer shanghai joygo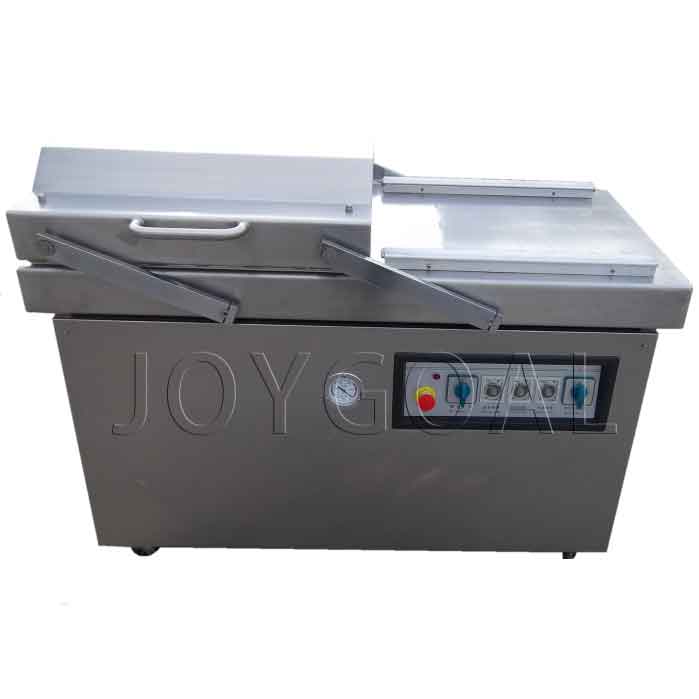 Vacuum packing machine/vacuum sealer double chamber vacuum sealer
ZKB-2A
Vacuum packing machine
is used in vacuum packaging for the food , pharmaceutical, aquatic, chemical and electronic industries. It can prevent the products from oxidization and mildew, as well as corrosion and moisture, keeping the quality and freshness of the product over a prolonged storage time.
Features
1. It is featured by automatic processing of vacuuming, sealing, printing, cooling;
2. Digital vacuum degree display panel;
3. Vacuum degree and seal temperature can be adjusted;
4. It is specially designed with arch design;
5. Wearable silicon sealing wire with long-time using;
6. High vacuum degree with perfect quality.
| | | | | | |
| --- | --- | --- | --- | --- | --- |
| model | ZKB-1A-400 | ZKB-1A-500 | ZKB-2A-400 | ZKB-2A-500 | ZKB-2A-600 |
| power supply | 200(V)50(HZ) | 200(V)50(HZ) | 200V/380V 50(Hz) | 200V/380V 50(Hz) | 200V/380V 50(Hz) |
| power | 1.5(kw) | 1.5(kw) | 2.3(kw) | 2.3(kw) | 1.5(kw) |
| workroom size | 420*340*80(mm) | 460*520*110(mm) | 570*540*110(mm) | 610*600*110(mm) | 720*600*90(mm) |
| sealing length | 400*10(mm) | 500*10(mm) | 400*10(mm) | 500*10(mm) | 600*10(mm) |
| sealing speed | 1-4(pec/min) | 1-4(pec/min) | 1-4(pec/min) | 1-4(pec/min) | 1-4(pec/min) |
| vacuum | 200(pa) | 200(pa) | 200(pa) | 200(pa) | 200(pa) |
| weight | 90(kg) | 90(kg) | 250(kg) | 250(kg) | 250(kg) |
| size | 660*660*1050(mm) | 510*635*950(mm) | 1350*850*980(mm) | 1350*850*980(mm) | 1350*850*980(mm) |
SHANGHAI JOYGOAL FOOD MACHINERY CO., LTD
ADD: NO 1082, Jiaxin Road, Jiading District, Shanghai
TEL:0086-21-59156277 59156278 59156377
FAX:0086-21-59156399
MOB:0086-15216669995 13124832882
WeChat/WhatsApp:0086-15216669995 13124832882
E-MAIL:hong@shjoygoal.com
WEB:http://www.shanghaipacking.com/
Facebook:https://www.facebook.com/joygoal.machine/
YouTube:http://www.youtube.com/c/ShanghaiJoygoalFoodMachineryCoLtd