Product Description
Handheld semi-automatic cbd oil cartridge filling machine cart shooter filler gun
Handheld semi-automatic cbd oil cartridge filling machine cart shooter filler gun
The JOYGOAL Semi-Automatic Cartridge Filler can fill 100 (0.5ml) cartridges, disposable pens or syringes in less than 5
minutes. With its revolutionary annular heat barrel your oil will always be the exact temperature you want and will never run
the risk of burning caused by direct contact with a heating coil.
The JOYGOAL advanced digital temperature control unit is built out of a durable and heat dissipating aluminum to give you
years of trouble free use. The easy to program LED display allows you to set the exact temperature you want from room
temperature to 194f. Both the power and data cords are detachable for easy storage.
The JOYGOAL filler is built of a durable light-weight aluminum and hand contoured to allow pain free high volume use. Desired
cartridge volume is adjusted using an easy to read dial in 0.5ml increments from 0.5ml-2.5ml. Oil is precision dosed via a
stainless steel piston and drip free stainless steel luer-lock tip. The revolutionary heat barrel is constructed of hardened
aluminum and provides a 3mm annular air space surrounding the oil. The air is evenly heated and prevents the oil from
overheating that can be caused by direct contact with a heating element.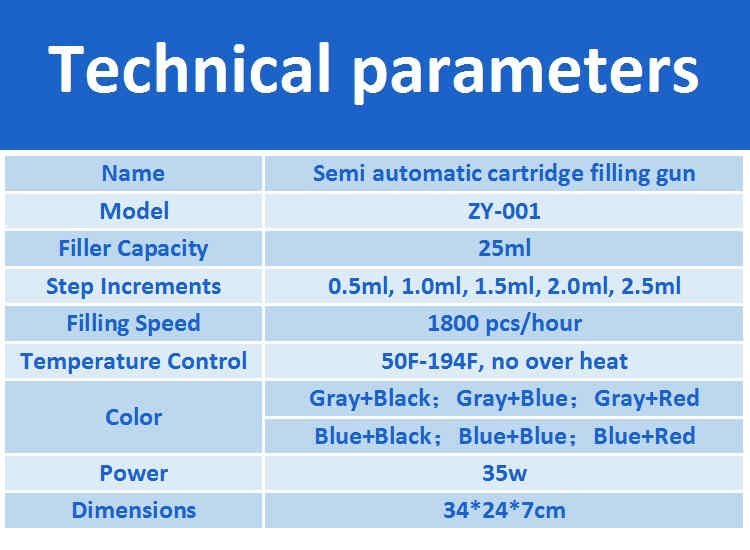 Easy Peezy Fill & Squeeze: We designed the JOYGOAL to be as user friendly as possible.
Preheat: Preheat oil to desired temperature.
Fill: Either by drawing back the piston or top filling.
Set Filler: Via easy to read LED screen and dial set your temperature and cart size.
Fill Carts: With a tiny .125" squeeze you've filled a unit.
Sales Director: Mr.Hong
TEL: 0086-21-59156277 59156278
MOB: 0086-15216669995
QQ: 1587889833
Wechat: 15216669995
WhatsApp: +8615216669995
Skype: Joygoal.Machinery
Email: Hong@shjoygoal.com
http://www.shanghaipacking.com/
https://www.facebook.com/joygoal.machine/